From inception to reality
We are a full service web application and development firm. We can create a single landing page or a full scale, Ajax enabled custom application that is easy to use with a beautiful user interface (UI/UX).
---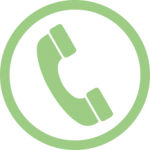 Call us First
If you are thinking about a custom web application, give us a call. We love planning and executing a development project. We will take your idea and develop a road map for success. As part of the planning process we will advise you on the best technologies to use and can also give you suggestions that you may not have thought of yet. Not only do we do great web development work, we create clean and fast code so your application will not only do what you want it to but it will look beautiful and will be lightning fast.
---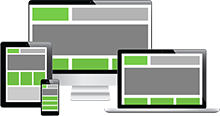 Your Business may not be a one size fits all, but your website needs to be
Your application should look good no matter where it is viewed. Having a responsive website is critical these days. With internet enabled devices on the rise,  your web site could be viewed from just about anywhere. Web browsers are now available on; TVs ranging from 19 inches to 60 inches plus; game consoles like PlayStation, Wii, and Xbox; mobile phones; iPads; and everything in between. It is no longer enough to be mobile ready. It has to be everything ready.
---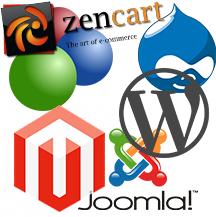 Content Management System (CMS)?
A CMS is a web application that makes updating your web site easy. Instead of editing your content with HTML and CSS, you can edit it in a browser much like a document editor like Microsoft Word. It makes the process of editing your web site simple, fast and easy. The best part is most of the more popular ones are free. Although a CMS is definitely the best way to go for a new web application, it may not do exactly what you want it to. That is where we come in. We can take just about any CMS and customize it to your specifications. Once your custom application is completed, you do not have to continually employ us to update your web site for you. Of course we will if you would like but at least you know you have the option of doing it yourself. The content management systems we work with are:
WordPress
Joomla!
Drupal
osCommerce
Magento
Zencart